Local Sacramento food truck operator, Andrew Blaskovich (aka "Drewski"), has been on the Sacramento scene for over two years now, serving up gourmet sandwiches to hungry crowds.  With well over 13,000 Twitter and Facebook followers, he is most certainly a force to be reckoned with and has been recognized by Food Network as one of the Top 10 food truck operators in America.  Drewski's has received rave reviews in local print and media and is currently ranked #1 on the KCRA "A" List.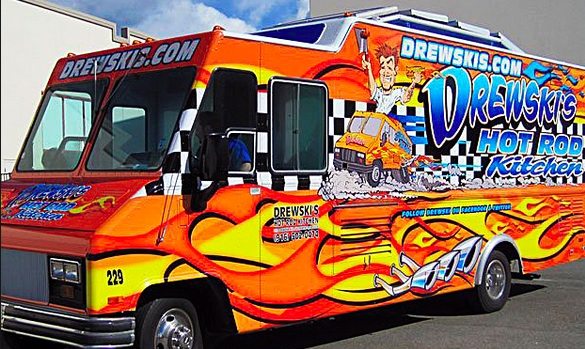 Article contributed by Brian Jacks
Brian Jacks is a Sacramento commercial real estate broker (since 1996) specializing in commercial leasing and investment sale transactions for retail, shopping centers, multifamily, apartments, senior housing, office, industrial, mixed-use, and special purpose properties.  Having spent over 20 years with Wells Fargo, he personally facilitated the underwriting, approval and funding of almost 250 commercial real estate loans totaling over $1 billion in proceeds.
Jacks is a Regional Vice President for EAST WEST Commercial Real Estate, a full service commercial real estate brokerage advisor based in Orange County.  In addition to serving the Sacramento marketplace, he is also responsible for the company's current expansion into the San Francisco Bay Area.  For more information, contact:
Brian.Jacks@EastWestCommercial.com
Cell (916) 837-3456 | eFax (916) 313-3778
915 L Street, Suite C440, Sacramento, CA 95814
About EAST WEST Commercial Real Estate
EAST WEST Commercial Real Estate is a full service commercial real estate brokerage advisor specializing in investment sales, commercial leasing and finance for retail, office, industrial multifamily, senior housing, self-storage, mixed-use and special purpose properties throughout California, Nevada, and Arizona.  The firm is headquartered in Orange County, CA.  Brokerage offices include Sacramento, San Francisco, Walnut Creek, San Jose, Oakland, Los Angeles, San Diego, Orange County, Riverside, San Bernardino, Reno, Phoenix and Flagstaff.  Other services include bank REOs, 1031 exchanges, nationwide commercial Business Opinions of Value (BOV's) and Broker Price Opinions (BPO's), mortgage brokerage, lender services, and asset management.