1600 sf Solar Powered unit in Chino for lease. In business park. 5 Large offices, small reception area. Please call Augie Chavez (909)732-9423.
Augie Chavez is an Inland Empire commercial real estate associate specializing in commercial leasing and investment sale transactions for retail, shopping centers, multifamily, apartments, senior housing, office, industrial, mixed-use, and special purpose properties. With over twenty years of experience in real estate, logistics, and construction, Augie brings a diverse and unique set of talents and skills to the commercial real estate arena which only serves to benefit clients in regards to how their assets are marketed and serviced.
Augie is a specialist in industrial field of commercial real estate for EAST WEST Commercial Real Estate, a full service commercial real estate brokerage advisor based in Orange County. In addition to serving the Inland Empire marketplace, he is also responsible for the company's current expansion into Riverside, San Bernardino, and Chino. For more information, contact Augie Chavez at (909) 732-9423 or Augie.Chavez@EastWestCommercial.com.

600 member congregation looking for industrial space for sale Inland Empire in Ontario, Chino, Upland, Rancho Cucamonga, or Fontana. Call Augie Chavez (909) 732-9423. Click Here to Read More!

Have congregation(with big plans!) looking for industrial space for lease Inland Empire in Colton, Redlands(E of 215/S of 10), or Riverside(near UCR). 1 office OK. Prefer frontage property and CUP ready. Call Augie Chavez (909) 732-9423. Click Here to Read More!

Check out this new Industrial / Warehouse Property for Lease in Chino, California. Click Here to read more.

What an honor it was to be invited to participate in a Legislative Summit sponsored by the California Asian Pacific Chamber of Commerce
at the California State Capitol in Sacramento.  It's 3rd annual event, held on June 20, 2012, was effectively a pro-business lobby day where 5 small groups, each with four business leaders, descended upon the offices of more than 50 California State Senators and members of the State Assembly.  The purpose of these meetings was to offer support in terms of pro-business legislation that is are currently circulating in the State Capitol of Sacramento. Click Here to read more.

Vice President and Regional Director, Brian Jacks, recently acquired a new restaurant listing in Sacramento, California, Costa Azul. This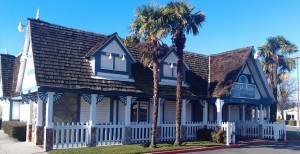 7,625 SF restaurant's new listing caught the eye of Sacramento Business Journal writer, Mark Anderson who recently interviewed Brian Jacks about his new listing in Tuesday's article. Click Here to read the full article.