Living in Sacramento, its easy to take for granted that we actually reside in the State Capitol of California, which represents the 9th largest economy in the entire world.  At times, a healthy reminder is in order to draw attention to this remarkable privilege that we all share.  Important matters are considered and decided every day inside the venerable halls of the State Capitol.  We are certainly fortunate to now have our very own local correspondent, Christopher Arns (Sacramento Business Journal), who has already written over 40 stories covering legislative activities surrounding the State Capitol since January.  
It is incumbent upon citizens to communicate with legislators to ensure their voices are heard.  It is within this context I participated last week in the 4th Annual Legislative Summit at the State Capitol, hosted by the California Asian Chamber of Commerce.  Pat Fong Kushida (President & CEO of the CalAsian Chamber) led four teams who met with over 40 legislative offices to discuss pro-business issues including workforce development, taxation, economic development, and regulatory reform.  It was a terrific day with open dialogue and a distinct willingness to come together.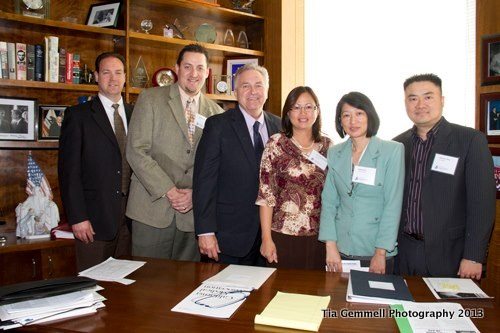 California State Senator Jim Nielsen (third from left) with CalAsian Chamber lobby team
One such meeting took place with Senator Jim Nielsen (see picture above), where team representatives connected on a personal level, sharing concerns and ideas for improvement in various areas.  This scene repeated itself many times throughout the day as we walked the halls, transitioning from one meeting to the next.  In a fitting culmination of events, the CalAsian Chamber lobby teams capped off the evening with a tasteful reception with dozens of legislators and staffers, along with community and business leaders.
The CalAsian Chamber's mission is to grow and empower the Asian Pacific Islander (API) business community throughout California.  It represents the interests of nearly 600,000 API owned businesses in the State of California. Within the Sacramento region, there exists a significant API concentration in the Little Saigon area along Stockton Blvd, which is a two-mile stretch bounded by Fruitridge Road (on the north) and 65th Street (on the south).  Two business and community leaders, who have invested heavily in this area, include Terre Johnson (Executive Director / Stockton Blvd Partnership) and Mai Nguyen (President / Greater Sacramento Vietnamese American Chamber of Commerce).  Both of these effective leaders are dedicated to improving the economic vitality of the API community within South Sacramento.  Johnson has even hosted local meetings with potential investors from the city of Anhui, China, who have considered potential projects along the Stockton Blvd corridor.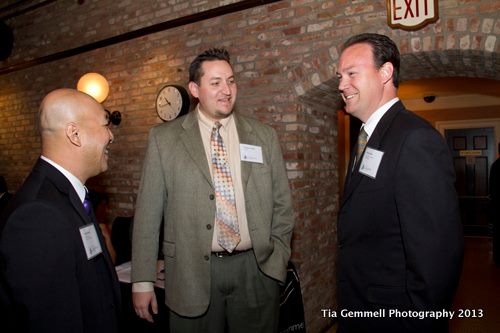 Andy Wong, Gordon Hinkle, Brian Jacks
On a related note, the CalAsian Chamber is hosting a delegation of 20 business and community leaders, including some legislators for the 2013 China International Trade Mission & Expo next month to the cities of Shanghai, Kunshan, and Beijing. A few of those attending are identified in the picture to the right and include Andy Wong (Board Chair, CalAsian Chamber / Business Banking President, Northern California Division, Wells Fargo Bank), Gordon Hinkle (Director of Public Policy & Communications, CalAsian Chamber), and Brian Jacks (Regional Vice President, East West Commercial Real Estate).  It's certain to be a terrific opportunity to connect with future business opportunities both home and abroad. However, closer to home, the Little Saigon area of Sacramento is already starting to see some signs of revival, if even only in the form of small bamboo shoots.  For example, an automotive / smog shop (former Jiffy Lube) located at 5736 Stockton Blvd (just south of Fruitridge Road) finally sold last week through short sale after a full year long process.  This API business owner / investor intends to re-open quickly and become a vital part of the local business community.
Article contributed by Brian Jacks
Brian Jacks is a Sacramento commercial real estate broker (since 1996) specializing in commercial leasing and investment sale transactions for retail, shopping centers, multifamily, apartments, senior housing, office, industrial, mixed-use, and special purpose properties.  Having spent over 20 years with Wells Fargo, he personally facilitated the underwriting, approval and funding of almost 250 commercial real estate loans totaling over $1 billion in proceeds.
Jacks is a Regional Vice President for EAST WEST Commercial Real Estate, a full service commercial real estate brokerage advisor based in Orange County.  In addition to serving the Sacramento marketplace, he is also responsible for the company's current expansion into the San Francisco Bay Area.  For more information, contact:
Brian.Jacks@EastWestCommercial.com
Cell (916) 837-3456 | eFax (916) 313-3778
915 L Street, Suite C440, Sacramento, CA 95814
About EAST WEST Commercial Real Estate
EAST WEST Commercial Real Estate is a full service commercial real estate brokerage advisor specializing in investment sales, commercial leasing and finance for retail, office, industrial multifamily, senior housing, self-storage, mixed-use and special purpose properties throughout California, Nevada, and Arizona.  The firm is headquartered in Orange County, CA.  Brokerage offices include Sacramento, San Francisco, Walnut Creek, San Jose, Oakland, Los Angeles, San Diego, Orange County, Riverside, San Bernardino, Reno, Phoenix and Flagstaff.  Other services include bank REOs, 1031 exchanges, nationwide commercial Business Opinions of Value (BOV's) and Broker Price Opinions (BPO's), mortgage brokerage, lender services, and asset management.